Bulkley Valley Christian School is now a certified "Best Christian Workplace." It's a designation that affirms the school's workplace culture and helps leadership to map a route to an even better future.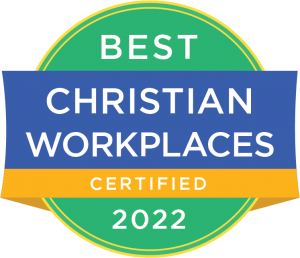 In the fall of 2022, BVCS engaged Seattle-area-based Best Christian Workplace Institute (BCWI) to conduct an Employee Engagement Survey. The survey asked employees across BVCS departments to anonymously respond to over 70 questions relating to our organizational, leadership and team health. In addition to these 70+ questions, staff provided written comments and feedback to BCWI. 
With this wealth of BVCS-specific data, BCWI carefully analyzed the responses and numerically scored BVCS against eight "Flourish Factors:" fantastic teams, life-giving work, outstanding talent, uplifting growth, rewarding compensation, inspirational leadership, sustainable strategy and healthy communication. Results were compared internally (across departments) as well as against 84 other Canadian and American Christian schools who have taken the same survey (with nearly 14,000 unique surveys). The results were very encouraging, with BVCS scoring at 4.16 on the overall scale: well within the "healthy" range.
"Based on our survey, we have been certified as a Best Christian Workplace with a very positive report," says Principal Chris Steenhof in a follow-up letter to staff. "We want to thank you for your work at BVCS in making this a place of flourishing for staff and students. We were encouraged by your responses and comments."
BCWI provided results to BVCS with over 56 pages of reporting covering all angles of the survey and the results. BCWI augmented the written reports to BVCS administration and board with a professional consultant debrief. The comparisons against the larger BCWI database indicate that in many areas, BVCS is performing ahead of many comparable institutions.
"The information in the BCWI report affirms BVCS as having a positive staff culture, and that's really encouraging. The report also gives us helpful information about areas where we can improve over the next year," says Steenhof. "Board and admin are discussing ways in which we can build on the strengths and improve the weaknesses indicated by the report."
An Employee Engagement Survey is not a one-and-done project. The survey is most effective as an annual tool, providing school leadership with objective information about how we're cultivating a positive staff culture. BVCS plans to re-take the survey annually so that progress can be measured and focussed improvements made.
"Our staff culture is critical to our health as an institution," explains Steenhof. "Certification (as a Best Christian Workplace) is important because it signals to prospective teachers and staff that they're joining a great team and a positive place to work. It also affirms our commitment to our existing staff that we are committed to their joy, growth, and engagement as employees and team members."
Bulkley Valley Christian School is home to nearly 50 staff employed across the pre-K to grade 12 program as teachers, educational assistants, special education assistants, support staff and administrators. The school's staff reflect a broad range of Christian denominations, age groups and other demographics.